You have
14
free articles left today, enjoy reading.
Incidents of violence by far-left extremists are becoming more common in Canada and beyond.
Most recently, Quillette editor and journalist Andy Ngo was viciously attacked by Antifa in Portland. Videos of the incident show Ngo being savagely hit over the head and kicked by a number of individuals.
While Antifa claims that they use violence against members of opposing right-wing groups, their targets have also included journalists, innocent bystanders, police officers and others.
Here are several recent incidents in Canada involving violence by far-left extremists.
Global News journalists attacked by Antifa
Reporters covering an Antifa protest in Quebec City had their camera equipment destroyed and were assaulted by Antifa in 2017.
In the attack, journalist Mike Armstrong was pushed down a set of stairs by the assailants.
The group later justified the attack and pledged to commit further violence against members of the "corporate media."
"Sometimes, it is necessary to go against what the mainstream considers 'acceptable,' to break the law in order to do the ethical thing," Antifa wrote in a statement.
Antifa mob caused $100K in damage to Hamilton small businesses
In 2018, a flash mob of Antifa members vandalized local businesses and attacked police in Hamilton.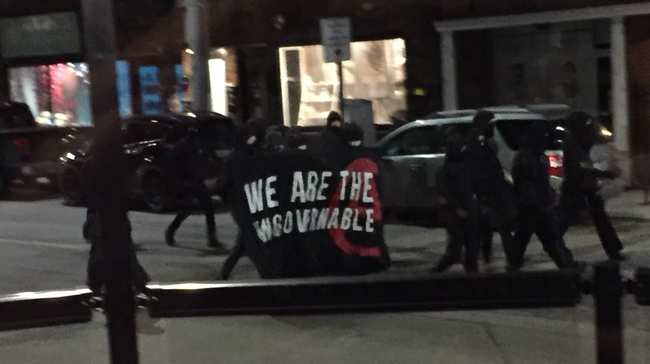 The group, which carried a banner that read "We are the ungovernables," threw rocks at vehicles, store fronts and police who arrived at the scene.
Around 20 to 30 people were involved in the mob. Shortly after police apprehended a number of individuals who were believed to be involved in the incident.
Twelve arrested at Toronto protest where two police officers sustain injuries
Protests erupted in Toronto last year at a Munk debate featuring Steve Bannon.
Far-left protestors who gathered outside of the event shouted and intimidated event goers.
Eventually the protest erupted into violence after Antifa rushed the doors and were stopped by the police.
Among the charges leveled against those involved ranged from assault, trespassing and mischief.
According to police, one officer was punched in the face while another was hit with a weapon.
Firebombing at an RBC bank in Ottawa
Anarchists took responsibility for the firebombing of an RBC bank branch in Ottawa in 2010.
Home made incendiary devices were used to destroy the bank and several suspects were seen fleeing the area late at night.
Shortly after an anarchist group called " Fighting for Freedom Coalition Ottawa " took responsibility for the firebombing in a video shared online and promised further attacks at the G20 summit later that year.
The group blamed RBC for investing in the oil sands and sponsoring the Winter Olympic games as the reasons behind their actions.
Three suspects were arrested in association with the crime and only one man, Roger Clement, was sentenced to serve five years in prison for the incident. In 2012, Clement was denied parole and CSIS agents cited him as a "domestic terrorism threat".
Toronto Sun journalist assaulted at an "anti-hate" event
Another assault against a member of the media was caught on camera in 2018.
Toronto Sun photographer Stan Behal was attacked by a member of the "anti-hate" crowd intending on protesting a far-right rally which never took place.
Since no members of the far-right were present at the event, the presence of the media sparked the crowd's ire.
In a video of the incident Behal is seen being attacked by a man without provocation.
---
Want to help us grow? Here's what you can do!
Extended Readings(4)
On "Trans Day of Remembrance" this year, numerous politicians and celebrities used the occasion to virtue signal on social media. They repeated the claim-turned-mantra from LBGT activist groups that there is an "epidemic" of trans homicides motivated by transphobia and racism in the U.S.
Chelsea Clinton, doing what the Clintons do best, weighed in vapidly on Nov. 20: "Since 2013, more than 150 trans people have been murdered in the U.S., the majority Black transgender women. On #TDoR2019, we remember and honor the lives lost, hold their loved ones in our hearts and must commit to doing all we can to end this epidemic of violence and hate."
Though the sentiment is valid, the claim she repeats is not. There is no "epidemic" of violent homicides against trans people in the U.S. How do I know? From data released by the Human Rights Campaign and the Federal Bureau of Investigation.
I responded to Ms. Clinton: "The U.S. is one of the safest countries for trans people. The murder rate of trans victims is actually lower than that for cis population. Also, who is behind the murders? Mostly black men."
Five days later, I was informed by Twitter that I had violated its policy against "hateful conduct." For stating a verifiable empirical claim, Twitter determined that I "promote violence against, threaten or harass other people" based on protected characteristics. I was given the option of deleting the tweet and facing a timed suspension, or appealing the decision while remaining indefinitely locked out of the platform. I chose the latter option.
My appeal was rejected.
Twitter's decision to force me to accept a false reality in order to use its platform is chilling to those who value truth above dogma, as uncomfortable as the truth may be. The dogma of our day is the trans ideology—an authoritarian worldview replete with science and evidence denial. Among many things, it claims that sex is a construct and that trans people are being hunted down across America
So far this year, there were 22 homicides involving trans or gender non-conforming people in the U.S. That number has held relatively steady since the HRC, America's largest LGBT lobbying group, started releasing annual reports four years ago. According to the HRC, there were 26 homicides in 2018, 29 in 2017, 23 in 2016 and 21 in 2015. The HRC provides the most comprehensive data set for trans homicides in the country. The FBI does not release numbers of trans people who are killed.  
Though every homicide is a tragedy and victims are due justice, lying about the scale is politically exploitative and reckless. It prevents the public from accessing real problems honestly in order to advocate for real solutions. Worst of all, it harms the very people who need protection.
The average homicide rate of cis males in the U.S. is around seven per 100,000 from 2015–2018, according to FBI figures. The rate for cis females during this timeframe is 1.9. The rate for trans homicides since the HRC began tracking in 2015? About 1.7. (This rate was calculated based on the 2016 UCLA Williams Institute estimate of there being about 1.7m trans adults in the U.S.)
For a developed country, the U.S. has high homicide rates. That is undisputed. But if the rates of cis men being killed isn't spoken about as an "epidemic," then neither should the rates for trans homicides, which is significantly lower compared to the cis population.
And while much attention is focused on the victims being mostly black trans women, no attention is given to the fact that the majority of known homicide suspects and convicts are also black. This intra-racial violence is consistent with other homicides in the U.S.
Additionally, there is no evidence to support the narrative that trans people are being killed because they are trans. The overwhelming majority of trans homicides involve victims being killed in the course of high-risk behaviours like street prostitution and drug dealing. Cis women and cis men involved in these activities face similar risks.
While it may feel good to earn praise by hiding uncomfortable truths, those who ultimately suffer in this instance are trans people themselves. They are told to fear people around them, that they could be killed at any moment and are helpless in the face of omnipresent hatred. This is not compassion or empowerment.
I'm now back on Twitter, but only because I was forced to accept that on this platform, a journalist will be punished for telling the truth.
---
Want to help us grow? Here's what you can do!
Related posts